Local Cycle Sales
Special Deals For Our Local Customers
LOCAL "CYCLE TO WORK" CYCLE SALES INCENTIVES
CTW purchases over £500 will qualify for this promotion. Offer only valid on production of voucher instore:
http://www.irvinecycles.co.uk/cycletowork.html
LOCAL CYCLE SALES INCENTIVES
Free Cycle Accessories up to a value of £50 when purchasing your new cycle.
Bike Delivered To Your Home Fully Assembled if desired.
Bike Picked Up For Its First Service & Returned to your address 12 Months After Purchase Date if desired.
Please note ; To qualify for "Delivery" benefits above, your postcode must fall within the "red" boundary ....see image below :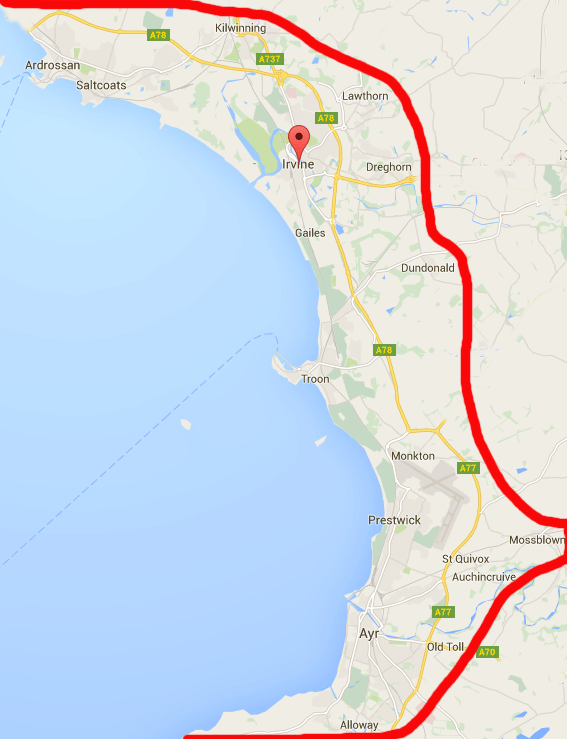 Our local customers have access to a buying experience & service that may be just about as good as it gets.. To make your buying experience a positive one, we at amgIrvine cycles are prepared to offer you FREE DELIVERY, FREE ACCESSORIES & a FREE FIRST SERVICE when purchasing your new bike.
All this without you leaving the comfort of your home, let us explain below..........
Choose a 2016 bike from our website at manufacturers full RRP. Unsure of the size or type of bike you are looking for, no problem......simply give us a call on 01294 272712 for advice or check out the websites of our top brands below. If you find something on these websites that fit the bill, please email us at sales@irvinecycles.co.uk with your request and we will add to our portfolio on our own website.
www.ridgeback.co.uk www.saracen.co.uk www.genesisbikes.co.uk www.specialized.com
Stage 1. Buy your bike online or in-store to qualify.
Stage 2. If purchased online let us know your preferred cycle accessories via email or telephone quoting the order number of cycle purchase. The value of free goods will be £15, £25 or £50 dependent on the value of cycle purchased. If you exceed your allocated promotional spend you are welcome to pay the balance when goods are delivered/uplifted. Example ; You purchase a bike @ £290.00, you request a Specialized Align Helmet, a balance of £5 will be payable.
Cycle Purchase £150 or above qualifies for £15 Free Accessories
Cycle Purchase £200 or above qualifies for £25 Free Accessories
Cycle purchase £300 or above qualifies for £50 Free Accessories
To help you choose accessories we have listed some popular items and their value below. If there is something specific that you are looking for, please enquire.
Specialized Stix Sport Headlight & Taillight @ £35.00 www.specialized.com/gb/gb/ftb/lights/lights-ftb/stixsportcombo
Specialized Align Helmet @ £30.00 www.specialized.com/gb/gb/ftr/helmets/mens-recreationalcommute-helmets/align
Specialized Sierra Helmet @ £30.00 www.specialized.com/gb/gb/ftr/helmets/womens-recreationalcommute-helmets/womens-sierra
Specialized Spdzone 10 Computer @ £25.00 www.specialized.com/gb/gb/ftb/computers/speedzone-computers/speedzone-sport
Bmx / Skate style Helmet @ £25.00
Specialized Airtool Inflater @ £20.00 www.specialized.com/gb/gb/ftb/pumps/portable-mountain-pumps/air-tool-mtb-pump
Specialized Wedge Bag @ £15.00 www.specialized.com/gb/gb/ftb/bags-tools/seat-bags/mini-wedgie
Raleigh Adult Prop Stand @ £12.00
Raleigh junior Prop Stand @ £12.00
Infini 2 LED wrap round Front Light @ £10.00 (ideal for kids)
Infini 2 LED wrap round Rear Light @ £10.00 (ideal for kids)
Abus Coil Lock @ £8.00
Specialized Inner Tube @ £5.00
Park Tool Tyre levers @ £3.00
Stage 3. Arrange delivery of your goods to your home. You have the option of 4 windows within the working week. Monday-Thursday, between 5.30-7pm. You again, can either email or telephone with your preferred delivery day.
Stage 4. Email us to arrange uplift of your cycle 6 months after purchase date for its free service, to make life easier for you we will open a full window of a month for you to arrange this. Example, you buy your bike in January, Contact us 6 months later anytime in July with your preferred uplift day, the day & time options are the same as the initial delivery options. Return delivery will be within the same time structures of Monday-Thursday, between 5.30-7pm of the following week, you decide which day is most convenient.
Please note : If your bike is "mucky" do not be concerned, we will look out our bucket of soapy water & some elbow grease. The free servicing of your bike that we offer is not a token gesture, this is why we recommend it be done 6 months after purchase.
The work carried out will be "platinum" level, see full details of exactly what will be done here :
www.irvinecycles.co.uk/cycleservicingandrepairs.html
Benefits to you :
Free accessories : Lets face it everyone likes a bargain, accessories supplied are of the highest quality & useful additions for you or your bike.
Convenience : We all lead busy lifes, its our aim at amgIrvine Cycles to make things that bit easier. if that means delivering to your home & uplift and return at a later stage to service, so be it. If for whatever reason you wished to collect your cycle in-store just let us know. Your free accessory offer is still valid.
All bikes delivered fully set up by our experienced mechanics ready for use.
The first "free service" will also include cleaning of the bike if required, so don't worry if its "mucky" we will look out our bucket of soapy water & some elbow grease.
T & Cs
Equipment calculated at manufacturers RRP
Cannot be used in conjunction with any other promotion.
No cash alternative, No part refund, Non transferable.
Cycle to Work purchases must be in excess of £500 to qualify for this promotion.
CTW Voucher must be processed instore,
Only postcodes within our advertised boundary will qualify, postcodes outwith will be considered at managers discretion.
Only 2016 models in excess of £199 & purchased at RRP qualify for the promotional benefits advertised.
The free 1st service offered covers our cleaning materials & time only, any worn parts/components required to make your cycle roadworthy would be chargeable.